Welcome to the official site for Blitzkrieg Bop - the UK punk band from the North-East of England that rattled round the UK between February 1977 and February 1979.

To hear songs by Blitzkrieg Bop click here.

To e-mail Blitzkrieg Bop: blitzkrieg.bop@ntlworld.com

This site aims to be a repository for all things connected with the band, including a detailed history, rare photographs and film, lyrics, a gig guide, press cuttings, reviews, a discography and anything else connected with the band.
If you click on "other bands" there are sections that give details of other bands involving John Hodgson, from my school band formed with my life-long pal Michael Charlton (Purity) in 1966, right through to my current project, essentially solo, which goes under the name Fast Cakes.

LATEST NEWS (Compiled by band vocalist John Hodgson (aka Blank Frank)):


LATEST NEWS (Compiled by band vocalist John Hodgson (aka Blank Frank)):


APRIL 2014
The Italian Blitzkrieg Bop vinyl LP "Studio Stuff" was officially released on March 1st 2014 – it contains all the Bop studio recordings, including five previously unreleased tracks. There are only 400 copies pressed and rumour is that it is selling out fast! To get your copy visit http://tinyurl.com/p7xkwjl and cash in on a future collectors item.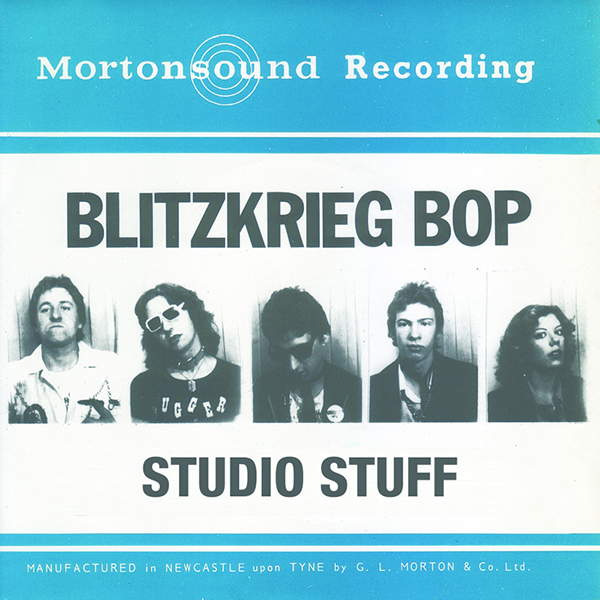 APRIL 2014
The three Japanese 7" singles by Blitzkrieg Bop are still coming out despite the delays – expect full details of tracks etc soon.
MARCH 2014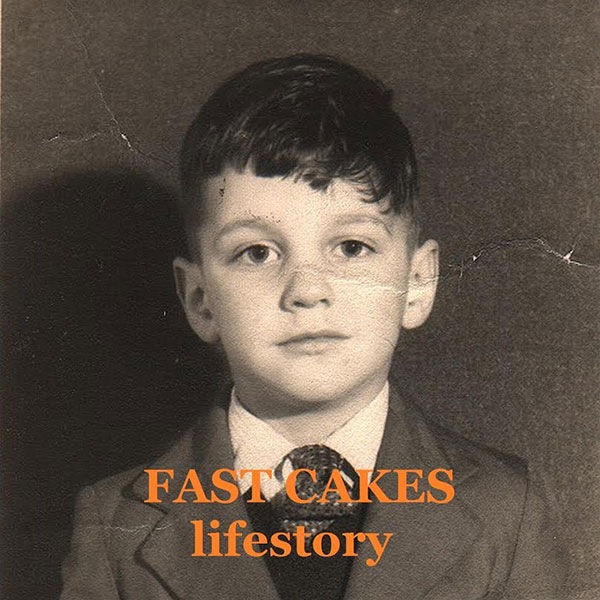 The new FAST CAKES album called LIFESTORY was released on the 2nd March. It is available on CD Baby: http://cdbaby.com/cd/fastcakes3 and also on iTunes and Spotify (Just search for Fast Cakes) There are fourteen new original songs: Heart And Soul (Faraway)/Crazy Dreamers/Money Buys Your Heart/Signals/Kaleidescope (Funkin' Out)/My Finest Hour/On The Motorway/Nobody Loves You/ No Man's Land/Lifestory/The Sirens Call/Be A Rolling Stone/Heart Of Stone (Feet Of Clay)/Looking Back

MARCH 2014
The new BLITZKRIEG BOP vinyl release is due any time now. Called "Studio Stuff" it brings together all the studio recordings of the band, including five previously unreleased tracks. Watch this space for updates on its release.

DECEMBER 2013
The new Bop CD "Live '77 & Beyond" is selling well with copies going all over the world, there are only 300 copies all individually numbered and it is expected to sell out in a few weeks.
DECEMBER 2013
Lots of news recently, with no fewer than FIVE new Bop releases due early next year, with another two a distinct possibility. There is a double 7" vinyl pack due from NE Records in Sweden, with no fewer than ten tracks: Let's Go/Life Is Just A So So/Mental Case from the bands 2nd single, and seven bonus tracks including early mixes of (You're Like A) UFO and Viva Bobby Joe. There is a CD included in the pack with all ten tracks plus another bonus track, an unreleased live version of Heart Of The City from 1977.
"1977" Records from Japan are planning three new singles, a repro of the Mortonsound Let's Go/9 Till 5/Bugger Off 7", a repro of the (You're Like A) UFO/Viva Bobby Joe 7" and a 7" containing two previously unreleased tracks, a cover of The Ramones "Blitzkrieg Bop" and The Clash's "White Riot".
And finally an Italian label is released a vinyl LP containing all the studio tracks from the band, as well as a BBC session and two recently unearthed demos from the Lightning "Let's Go" session from 1977, the album is provisionally entitled "Studio Stuff", and a CD version of may follow with bonus tracks.
DECEMBER 2013
Recordings are continuing for the new FAST CAKES album, due some time in 2014. So far three new songs have been completed, "Signals", "The Sirens Call" and "Money Buys Your Heart", with several other tracks half finished.
NOVEMBER 2013
The new Blitzkrieg Bop CD "Live '77 & Beyond" is now available to buy here it is strictly limited to 300 copies worldwide, all individually hand-numbered.
Preview the opening track "One Chord Wonders" here
OCTOBER 2013
I have recorded and completed the first new track of 2013 under the Fast Cakes banner, entitled "Signals", this is due to be released as part of the 2014 album provisionally called "Lifestory",
A video for this track can be viewed here

OCTOBER 2013
Discussions are currently taking place with a Japanese record label about releasing old Bop material, particularly the Mortonsound recordings, including several unreleased tracks. It is
expected they will be vinyl releases, possibly the same tracks as the original Mortonsound
single, but with alternate takes.

OCTOBER 2013
The release of the Blitzkrieg Bop live album entitled "Live '77 & Beyond" has been rescheduled due to changes in the track listing (adding extra tracks) and some record company politics,
it may still come out before the end of the year, it may not. Watch this space.

SEPTEMBER 2013
The Teesside Band Archive Local Heroes Podcast series season 1 has now concluded, featuring exclusive music sessions and interviews with a whole host of Teesside bands and artists,
including Graeme Robertson, Sus2, Andy Mitchell, Steve Cooke, Davey Bandman, Andy X, Blacklines, The Come Down, Gnome Invasion, Little Grey Cells, Barbara Helen, Angie Taylor,
Bre Musiq, Arcade 39, Phage, Jeffrey Bruce Butterfield, The Glass Moths, The Running Colours, Fast Cakes, Nothing Waits etc. You can hear them all at www.teessidebandarchive.weebly.com

AUGUST 2013
It has come to my attention that the Earcom 2 mini-LP originally released in 1979 and featuring two song by BASCZAX is now available as a picture disc. It is unclear whether this is an official release, my guess is that
it's a pirate release. However, I still want a copy, but the asking price on ebay is about £80 - so I will wait.
JANUARY 2013
I have started a regular podcast for the TEESSIDE BAND ARCHIVE project, entitled TBA local heroes – each podcast features a Teesside musician, songwriter or band with some of their own music as well as music from their favourite bands and chat about their music and career. Episode one features GRAEME ROBERTSON and can be heard here and episode two features young acoustic trio Sus2 and can be heard here
NOVEMBER 2012
Work on the long-awaited Blitzkrieg Bop live album has now been completed. As a teaser I can link to two tracks from the album, the band's searing version of "Gloria" is here and a live version of the b-side of their 3rd single, "Life Is Just A So-So", is here
NOVEMBER 2012
Work on the artwork for the live album has started. It will be called "Live '77 & Beyond" and below is an early draft for the front cover: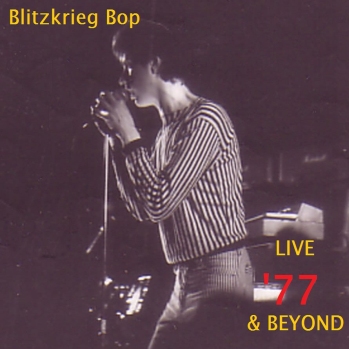 NOVEMBER 2012
As well as this site, I also have a Facebook page that covers the whole of the Teesside scene, called the "Teesside Band Archive", it has many posts discussing the Teesside music scene, with dozens of posters, gig tickets, photos, and some rare unreleased music from the punk era, here, as a taster, is a song from a BBC radio session, it's NO WAY with a version of their only single, "Breaking Point" (http://soundcloud.com/fast-cakes-1/breaking-point-master-11aug79)
JULY 2012
I am pleased to announce the release of a brand new album, released under my alter ego FAST CAKES. It's entitled "CALL OFF THE DOGS", it's download only, and the cheapest place to buy it is CDBaby, you can also get it from Amazon and Spotify. There's a mixture of original songs, as well as some tasteful cover versions, including INSTANT KARMA (John Lennon) and VALLEY OF THE LONG LOST WOMAN (John Cooper-Clarke)

JULY 2012
No further news on The Lice CD, it's still in the pipeline apparently. Also the Bop live album is still being worked on, but there's no plans for a release at the moment.

JULY 2012
Sales of the Blitzkrieg Bop story "A Hard Road To Nowhere" has now exceeded 500 copies for the Kindle, it's available for the Kindle at Amazon for 79p!
OCTOBER 2011
Plans are now underway to finally release a compilation of live recordings from Blitzkrieg Bop, rather than a complete gig, the CD will feature assorted tracks from different gigs, including early recordings from the Speedway from March 1977 to songs from their reunion gig at The Cornerhouse in 1999.
OCTOBER 2011
There is also news of the release of a collection of demo tracks from Teesside punk band The Lice (featuring two former Bop members, Graham Moses & Mickey Dunne) dating from 1977/78, there will also be a bonus track of an interview from the bands vocalist. John is currently remastering the tracks at Imperial Digital.
OCTOBER 2011
Basczax have decided to make their 2010 reunion album "This Machine Rocks" available for free download. I understand this is being organised by the people behind the Rock Graden facebook page, more details to follow.
FEBRUARY 2011: Bop story now on Kindle
The 1998 book, "A Hard Road To Nowhere" is now available for download to your Kindle reader at this link. The book charts the ups and downs of Blitzkrieg Bop, complete with complete gig list, discography and lyrics.


IMPORTANT ANNOUNCEMENT
The new Basczax album, THIS MACHINE ROCKS, has finally arrived.
Available initially for download only, the album can be bought in one go, and also as separate tracks.
Track details:
1. Sexy Robot
2. Hollywood Strut
3. Automania
4. Neon Vampires
5. Track XXX
6. Darkstar 17
7. Siberian Eyes
8. The Calm
9. Disco Apocalypse
10.Velvet & She #1
11.Mekanik 2010
12.In A Room
13.Spies In The Wardrobe
14.That Dress
15.Velvet & She #2
Previews of all tracks available at these links:
http://www.cdbaby.com/cd/basczax
http://www.amazon.com/gp/product
It is also available on iTunes.
MAY 2010: Bop/Basczax news
The mooted Bop reunion will not now be taking place. I can't see any prospect of it ever happening. But good news on the Basczax reformation - the project, unofficially christened BASCZAX 2.0 (the "Burning Airlines" moniker lasted all of 2 hours) is now in full flight. There will be a new album later this year, as yet untitled, with at least 12 songs, including new 2010 versions of old favourites "Neon Vampires" and "Hollywood Strut", as well as soms brand new tunes.
MAY 2010: No news on the planned book, to be honest the Basczax project has now overshadowed all else for the forseeable future.
FEBRUARY 2010: Bop reunion mooted
There is a slim chance that Blitzkrieg Bop will be re-uniting once again in September 2010, plans are afoot to stage a Rock Garden reunion gig at a Teesside venue yet to be confirmed. The hope is for three original members of the band (Blank Frank, Gloria and Telly Sett) to perform the three tracks from the bands debut single, alongside many other bands from the 1977-80 period. Watch this space for any developments.

FEBRUARY 2010: New book being planned
I have decided to write a new book, based on the Blitzkrieg Bop book "A Hard Road To Nowhere", it will also be called "A Hard Road To Nowhere" but with the added line "20 Years Of Rock & Roll Faliure" - which will focus on the period 1966-1986, and take in the stories of Basczax, Makaton Chat, Erection, Adamanta Chubb & Purity, as well as the Bop story. It will be available through lulu.com
FEBRUARY 2010: Basczax reform!
Thanks to the wonders of the internet, four out of the five members of the "classic" Basczax line-up are now collaborating on a new project. Despite living in far flung places, Jeff Fogarty, Alan Savage, Mick Todd and John Hodgson are making music together after a 29 year gap. There are at least five new songs in the pipeline, with the first, "Disco Apocalypse", nearing completion. The provisional band name for this project is Burning Airlines.
FEBRUARY 2010: Sorry for the long gap!
Some updates on previous stories: The Basczax "If There Is Something" project ultimately failed in its objective - the compiler of the CD rejected the track in favour of another version of the song by another band - well sod you then! On the Basczax CD front, there is no immediate prospect of a release date.
JANUARY 2009: New Basczax track!
In late 2008 I collaborated with Basczax bassist Mick Todd after we were approached to contribute a Roxy Music cover version to a tribute LP due for release in 2009. The band decided to cover "If There Is Something", from the bands debut LP. Full details to follow.

JANUARY 2009: Bop guitarist visits Imperial Digital
In late 2008 Bop guitarist Ray Radford (Ray Gunn) dropped into Imperial Digital to contribute some rocking guitar to several on-going projects. Not quite a Bop-reunion, but it's the first time we have worked together since 1999, and the first time we have recorded together since 1978. Full details to follow.

SEPTEMBER 2007: Fast Cakes isound site created
There seem to be an incresing number of music hosting sites nowadays, and i've just found another one called isound. I have created a band page for Fast Cakes which can be accessed here: isound . There's nothing on the isound site that cannot be found here.
SEPTEMBER 2007: New Basczax CD planned
Negotiations are under way with an Italian indie label for a limited edition release of a Basczax compilation. The idea is to have a collection of audio tracks coupled with a video of the bands only TV appearance, singing "Ego Therapy" from Check It Out in 1980. Watch this space for more details.
SEPTEMBER 2007: Progressive Housewares feature
Did a photo shoot and brief interview for Progressive Housewares magazine to promote LIVEYOUNGDIEFAST. It should appear in the October issue.
SEPTEMBER 2007: New Youtube videos
Someone has kindly posted Makaton Chat's 1986 final TV appearance on TX45. We performed twp songs, "Blood From A Stone" and "Lines", you can watch them below:
Blood From A Stone:
Lines:
AUGUST 2007: Publishing contract signed
A contract for the publishing rights to "LIVEYOUNGDIEFAST" was signed on the 25th August with Millbrand Music. There is also plans for me to compose music for films, as Millbrand have recently expanded into film music publishing.
AUGUST 2007: Disaster at pressing plant!
An e-mail arrived at Imperial Digital telling of a cock-up at the pressing plant, the master for "LIVEYOUNGDIEFAST" had been damaged during the pressing process. A new master was immediately copied and sent the same day to the pressing plant. It has delayed the release of the CD by about a week.
AUGUST 2007: Link to Fast Cakes Soundclick site.
The music promotion site Soundclick celebrates 10 years online this year, and I can certainly vouch for its usefulness in promoting music. Click on the banner below and you will be able to listen to over 40 Fast Cakes songs free of charge.